educationa
"For everyone ought to reflect that in all spiritual matters, the more one divests oneself of self-love, self-will, and self-interests, the more progress one will make."
Jesuit Higher Education: A Journal (JHE) is a scholarly, peer reviewed, open access, online journal focused on the development, advancement, and critique of higher education in the Jesuit tradition. We welcome submissions on the scholarship and practice of Ignatian pedagogy in any academic disciplinary or interdisciplinary context as well as how the Jesuit mission is infused in all aspects of higher education, including student life, experiential learning, and other cocurricular activities.
Focus on Health Professional Education (FoHPE) is the official journal of the Australian & New Zealand Association for Health Professional Educators (ANZAHPE), which is the peak organisation for practitioners who educate and train health professionals in Australia and New Zealand. The refereed journal was formally established in November 1998, and is published by the Association to promote, support and advance education in all the health professions. The Journal is intended for educators, clinicians and students who have a commitment to improving health care through better learning and teaching.
Information for reviewers click here
The second phase aimed to build upon the work of the first phase and to develop a model for understanding participation within the context of inclusive education. A systematic approach was taken by developing a framework for participation, analysing existing indicator systems and identifying ways to link various data or information generated at the individual, classroom, school, local and national levels.
This report presents the main findings from the second phase of an Agency project on the topic of indicators in the area of inclusive education in Europe.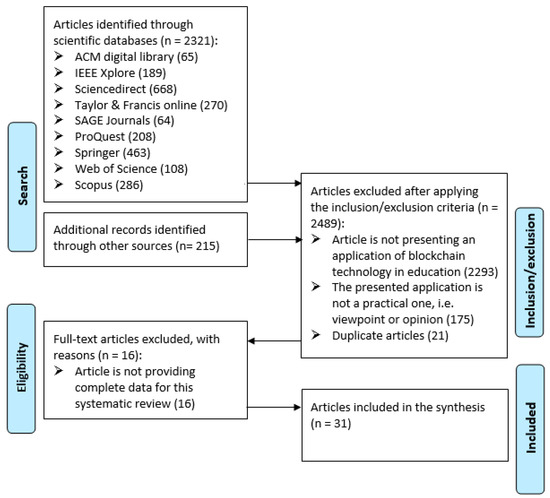 Publication year of the included articles.
Benefits and challenges of adopting blockchain technology in education.
Integrating financial education throughout the K-12 experience represents a promising opportunity to reach consumers at a pivotal point in their development and their financial lives.
This resource guide is meant to help connect policymakers with tools, information, and insights to enhance K-12 financial education efforts. While the guide is targeted at policymakers, the guide was designed to benefit all members of the financial education community. The guide's framework for advancing K-12 financial education has three main sections: laying the groundwork, building the initiative and extending the impact.
References:
http://fohpe.org/
http://www.european-agency.org/resources/publications/participation-inclusive-education-framework-developing-indicators
http://www.mdpi.com/2076-3417/9/12/2400
http://www.consumerfinance.gov/data-research/research-reports/advancing-k-12-financial-education-a-guide-for-policymakers/
http://www.futurelearn.com/courses/learning-network-age/0/steps/24637